Battery status
Your pen tablet provides information about your wireless operation and status. The Status LED shows the following:
Amber: Wireless mode connecting.
On: Wireless mode on.
Off: Sleep mode, or wireless mode off.
On the wireless module, the battery status LED shows the following:
Amber: USB cable connected and battery charging.
Green: USB cable connected and battery fully charged.
Off:

USB cable connected, tablet in USB suspend mode or USB connecting state
USB cable disconnected, no charging activity.
USB cable disconnected, operating wirelessly.
When your tablet is not connected to your computer, you can charge the battery using a standard wall adapter with 5V output voltage. Quick charging will not work during this process.
In wireless mode, you can view battery status and change wireless control options on the Wireless tab. Also see Wireless connection.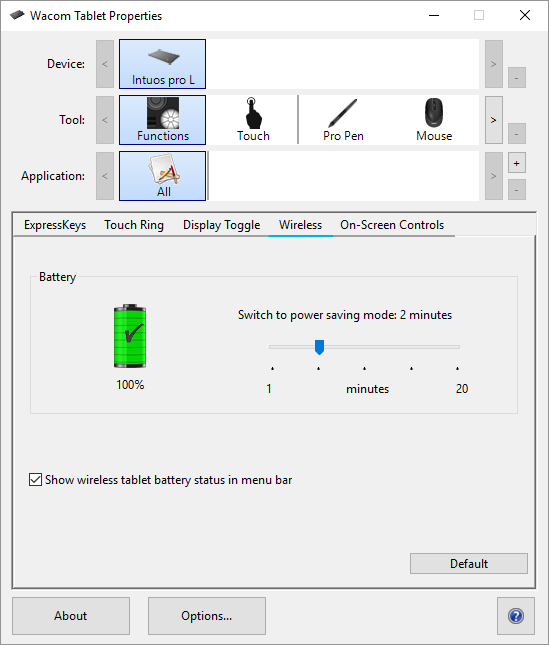 The above screenshot is for descriptive purposes; it may not match your screen.
Adjust the slider to set when your tablet will switch to power-saving mode. See Power-saving features.
The battery status icon shows the tablet is in use, with an approximation of the remaining battery charge.
A power plug symbol shows the tablet is running on external power through the USB cable, and the tablet battery is charging.
A check mark symbol indicates the battery is fully charged.
An alert symbol indicates the battery charge is below 20%.