Working with Multiple Tools
Use Wacom Tablet Properties to customize and keep track of the settings for your pen tablet or pen display, and tools. Your most recently used tool is automatically selected, and the tabs for that tool are displayed.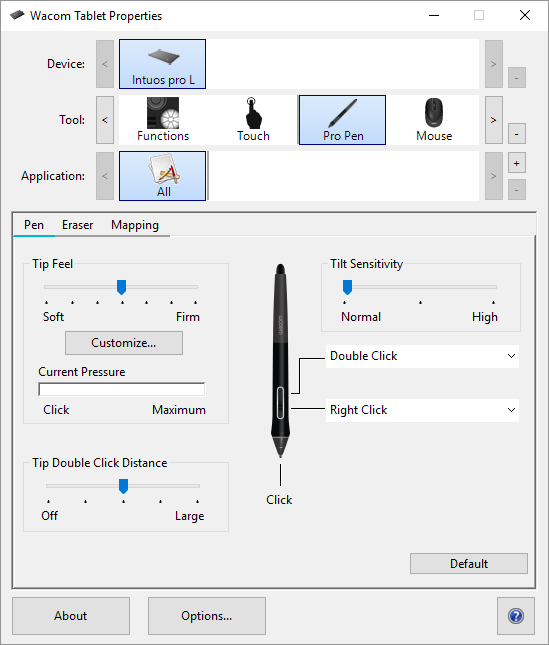 The above screenshot is for descriptive purposes; it may not match your screen.
The Tool list displays an icon for the functions and tools that have been used on the device.
The Touch icon is available for touch-sensitive devices.
If application-specific settings have not been added, the All icon is displayed and the tool settings apply to all applications.
The + and - buttons are used to add or delete selected tools. The - button is inactive when there is only one item in the list. The Functions and Touch icons cannot be deleted.
To add a tool to the Tool list, simply use the tool on the pen tablet.
When you select a tool that has been added to the Tool list, the tab settings for that tool are displayed. Any changes you make to the tab settings will then apply to the tool.
If a similar tool has been added, the new tool will inherit the settings of that tool. These settings can then be customized for the newly added tool. Identical tools use the same settings.
To remove a selected tool from the Tool list, click on the Tool list - button. In the dialog, click Delete. The selected tool is removed from the list, along with any custom settings you may have created for it.