Features
The features of your Cintiq 27QHD or Cintiq 27QHD touch are described and illustrated below. Refer to the printed Quick Start Guide that came in the box with your Cintiq for instructions on set up and connection. See About your Cintiq 27.
Customizable ExpressKey Remote: This device provides 17 programmable ExpressKeys™ and a Touch Ring to use with your Cintiq, or another pen display or pen tablet. The ExpressKey Remote can be operated close to the other device, or from several feet away. It can also be attached to one of the magnetized bezels on the left or or right of the Cintiq 27 screen for easy access.
Hardware Control Buttons: Three buttons on the top right of the Cintiq 27 automatically execute the functions listed in the table below.
Kensington Security Slot: A port that allows you to attach a locking security cable to your Cintiq.
Folding legs: There are two legs on the back of the Cintiq. Unfold the legs to set the Cintiq to a 20-degree angle. With the two legs folded in, the Cintiq will have a 5-degree angle when placed on your working surface.
Power LED: The Power LED indicates the following power states: blue for full power, orange for standby, and no light when the Cintiq is turned off.
Status LED: The Status LED lights white when the Cintiq 27 has power and is connected to an active USB port, for each of the following actions:

Click with the tool tip
Touch the active area with a pen, or with a pen or finger on the Cintiq27QHD touch
Use the pen or press the pen button
Press the eraser to the screen

Multi-touch: The Cintiq 27QHD Touch includes multi-touch capability.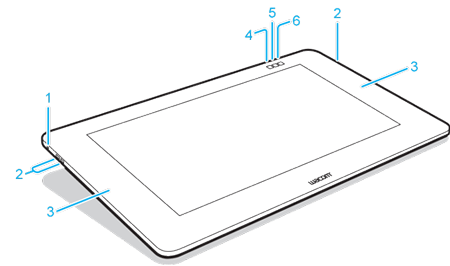 Number
Item
1
Kensington Security Slot
2
USB port
3
Magnetized areas
4
Wacom Desktop Center
5
On-screen keyboard
6

Wacom display settings (Cintiq 27QHD)
Touch on/off (Cintiq 27QHD Touch)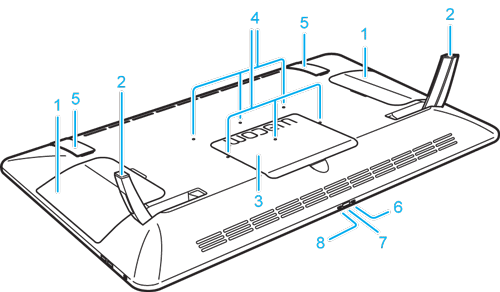 | Number | Item |
| --- | --- |
| 1 | Cover to mounting area for optional stand |
| 2 | Folding legs |
| 3 | Cable cover for connections to computer |
| 4 | VESA mounting holes |
| 5 | Rubber grip pad |
| 6 | Power LED |
| 7 | Power switch |
| 8 | Status LED |