Features
The features of your Intuos pen tablet include:
Customizable ExpressKeys™: Four keys on the upper corners of the Intuos allow you to set frequently used functions or keystrokes, or to simulate button clicks or modifier keys.
Touch toggle switch: Allows you to enable or disable touch.
USB connector: Connects your Intuos to your computer. See the Quick Start Guide that came with your Intuos for instructions on connecting it to your computer. Also see About your Intuos.
Power LED: Lights when the Intuos is connected to an active USB port.
Status LED: Lights when you touch the active area, or use the pen or ExpressKeys™.
Active area: The portion of the Intuos surface that detects pen and touch input. The boundaries of the active area are shown by four small dots on the corners of the tablet.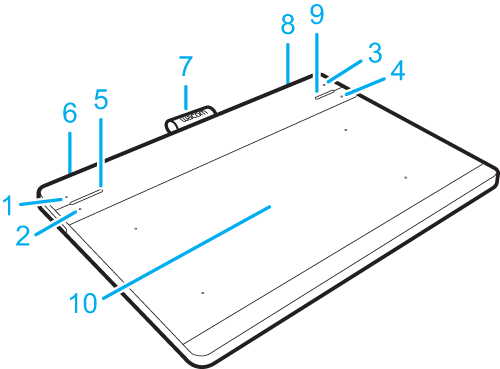 | Number | Item |
| --- | --- |
| 1 through 4 | ExpressKeys™ |
| 5 | Power LED |
| 6 | USB port (left rear corner) |
| 7 | Pen holder |
| 8 | Touch on/off switch (right rear corner) |
| 9 | Status LED |
| 10 | Active area |
On your Intuos, extra pen nibs are fastened to the inside of the compartment cover on the back of the tablet. A nib removal plate is inside the compartment.