Features
The features of your Intuos pen tablet include:
Customizable ExpressKeys™: Four keys on the upper corners of the Intuos allow you to set frequently used functions or keystrokes, or to simulate button clicks or modifier keys.
Touch toggle switch: Allows you to enable or disable touch.
USB port: Connects your Intuos to your computer. See the Quick Start Guide that came with your Intuos for instructions on connecting it to your computer. Also see About your Intuos.
Power LED: Lights when the Intuos is connected to an active USB port.
Active area: The patterned area of the Intuos surface detects pen and touch input.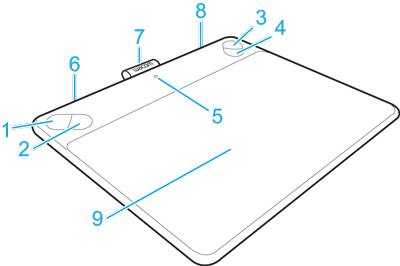 | Number | Item |
| --- | --- |
| 1 through 4 | ExpressKeys™ |
| 5 | Power LED |
| 6 | USB port (rear corner) |
| 7 | Pen holder |
| 8 | Touch on/off switch (rear corner) |
| 9 | Active area |
Extra pen nibs and a nib removal tool are provided under the cover on the back of the tablet. The battery compartment is also located under the cover.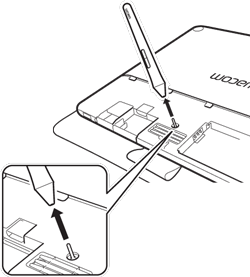 Note: Use care when opening the back cover of your Intuos to replace your pen nib or battery. To open and close the back cover:
Refer to the illustrations.
Hold the Intuos in both hands, facing away from you.
Use your thumbs to press upward on the cover, then lift it away from the tablet.
To replace the cover, slide it back down onto the tablet until it snaps into place.
Do NOT remove the cover by pulling it out from the top edge. Do NOT replace the cover by aligning the cover with the tablet and then pushing down on the cover.