Mobile Desktop Center
Wacom Mobile Center is a Mobile Mode application for your Cintiq Companion Hybrid that allows you to change settings, use Android apps, register and update your system, and select options for file management. You can also access product support, and product-related websites. The items on the left side of the Wacom Mobile Center screen allow open associated options on the right side of the screen.
If your Cintiq is connected to your computer and then disconnected, the Cintiq will switch to Mobile mode.
You can open the Wacom Mobile Center from the Wacom Center icon on the Home screen. To make additional customizations and settings changes for your Android system, select the Settings app from your Home screen or from the Notification Drawer in the upper right of the screen.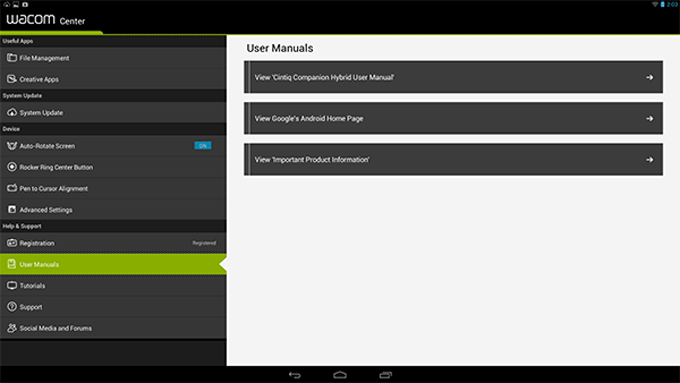 The following options are available from the Wacom Mobile Center:
Useful Apps.

File Management. Launches ASTRO File Manager, which helps you manage your content and files, including pictures, music, videos or documents, on your Cintiq and your computer via networking. You can also use ASTRO File Manager with popular cloud services such as Facebook Photo Albums, Dropbox, Google Driver, SkyDrive and Box.
Creative Apps. Launches Wacom Creative Canvas, Wacom Manga Canvas, or other apps that will enhance your creativity. These apps can also be launched from the Android Home screen. You can also select Wacom Recommends to access a list of useful Android apps.

System Update. The system will inform you when a software update is available, and provides options for downloading and installing the update.
Device.

Auto-Rotate Screen. Setting this slider to On causes the display to change to the correct orientation if you change the position of the Cintiq.
Rocker Ring Center Button. Select your preferred function for the Center Button. The default for the Center Button is to launch the web browser. You can set the function to launch a web browser, the Wacom Mobile Center, ASTRO File Manager, a camera app or custom app available on your system, take a screen shot, or perform other functions.
Pen to Cursor Alignment. This option will open the pen calibration utility used in the Setup wizard.
Advanced Settings.

Show Virtual Desktop Driver CD. Use this option to install Desktop Mode drivers if you did not complete installation in the Setup Wizard, or if you want to reinstall the drivers at a later time.
Enable PC Connectivity via ADB. This item is checked to ensure notifications between the Cintiq and the computer.

Help & Support.

Registration. Click the registration link to access the Wacom product registration site.
User Manuals. Allows you to access this manual and the Important Product Information document, which provides specifications, warranty, and related information.
Tutorials. Allows you to access instructional videos that will help you begin using your Cintiq, and learn more about how to work with it.
Support. This option allows you to access Wacom Support for help with your Cintiq.
Social Media and Forums. This option allows you to launch additional websites that will help you learn more about working with your Cintiq.