Stand Setup and Usage - Part 2
When you connect your Cintiq to your computer, you need to select the correct video cable (see Cintiq 24HD connections). The connection cables (DVI-I to DVI-D Dual-Link, DisplayPort, USB, and power) come pre-installed on your Cintiq.
For instructions on setting up your Cintiq and stand, see Cintiq 24HD setup.
DisplayPort connection
If you are using a DisplayPort connection, access the DisplayPort cable by removing the back cover from the display stand.
Remove the screws from the back cover of the display stand and remove the back cover. The screws are cross-head (Phillips), flat fillister head, M3-6, black.
Extract the DisplayPort cable and set it within the center cable channel. Tuck the DVI-I to DVI-D cable into the stand for a clean appearance.
Replace the back cover and secure using the original screws.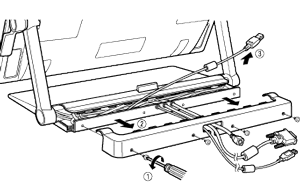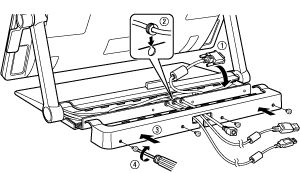 Replacing a cable
You may need to replace a cable:
When using a VGA connection. You must remove the DVI-I to DVI-D cable and replace it with the provided DVI-I to VGA cable.
When mounting Cintiq on a VESA mounting arm, and you wish to use the existing cables that come with Cintiq.
When replacing a suspected bad cable.
To remove a cable:
Remove the back cover of the display stand as described above.
Determine which cable to remove. Cable locations are shown below.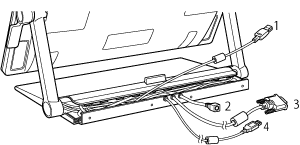 | | |
| --- | --- |
| 1 | DisplayPort |
| 2 | Power cable |
| 3 | DVI-I to DVI-D Dual-Link |
| 4 | USB cable |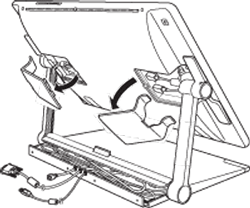 Raise the display support arms to the vertical locked position.
Adjust the pen display incline as needed for adequate clearance.
From the rear of the pen display, unclip and lift off the cable connector covering.
Remove the two Phillips screws from the support arm cover which houses the cable to be removed.
Carefully disconnect the cable and unthread it from the support arm cable track.
Replace or install the new cable.
Important: When installing or replacing a cable, properly route the cable through the support arm pivots where the arm joins the pen display and the base of the stand to prevent the cable from getting caught in the pivot mechanism.