Advanced Options
The Options dialog lets you set several use preferences for your pen tablet. Click on the Wacom Tablet Properties Options... button to access the Options dialog. The items in the Options dialog will vary, depending on the device you are using.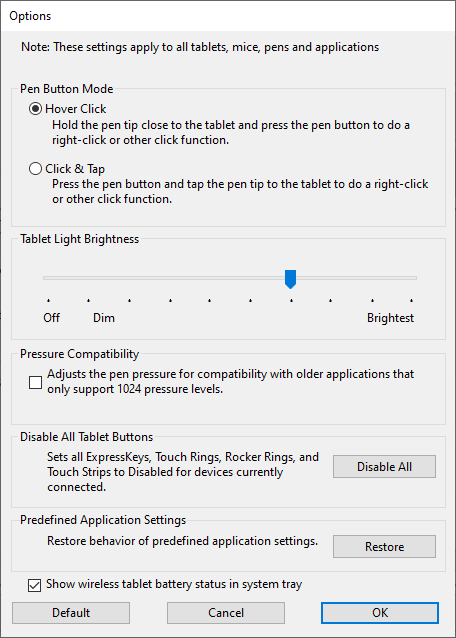 The side switch mode settings are:
Hover Click will perform click functions without touching the pen tip to the tablet surface.
Click & Tap will enable the precise placement of click functions. It requires pressing the side switch and then touching the pen tip to the tablet surface to perform the function.
Additional settings may include:
Handedness sets the button orientation of an optional Mouse for right- or left-handed use.
Brightness Adjustment adjusts the brightness level, or turns off status LEDs and active area markers. (Available on some devices.)
The Pressure Compatibility box should be checked if you are using graphics applications that only support a maximum of 1024 levels of pressure.
For devices that support use of a wireless kit, Show wireless tablet battery box enables or disables display of the battery status icon in your system tray during wireless operation.