Customize user options
Click on Options in Wacom Tablet Properties to customize pen button mode and other preferences for your device.
Note: The available options may vary depending on your device.
Hover Click is the default and allows you to click by pressing the pen button while holding the pen tip slightly above the device surface.
Select Click & Tap if you want to click by pressing the pen button and tapping the pen tip to the device surface.

Choose this option for more precise placement of clicks.

Move the Brightness Adjustment slider to adjust the brightness level or to turn off status LEDs and active area markers.
For devices that support wireless, select Show wireless tablet battery if you want to display the battery status icon in your system tray during wireless operation.
To disable all ExpressKeys™, Touch Rings, Rocker Rings, and Touch Strips, click the Disable All Tablet Buttons button.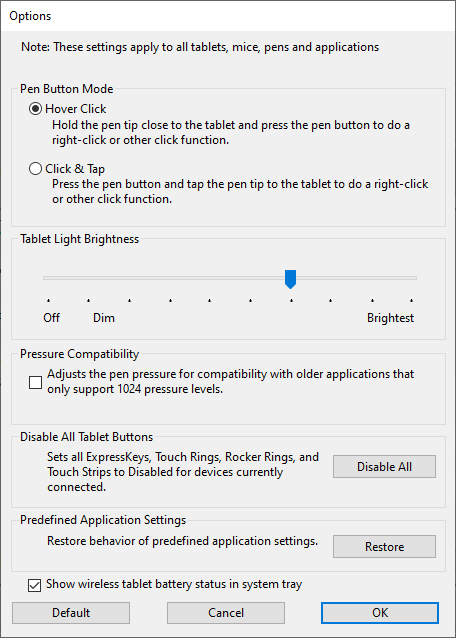 The above screenshot is for descriptive purposes; it may not match your screen.