Display Toggle
Display Toggle is available when working on multiple monitor systems. This feature allows you to work with your pen display on all other connected displays, or on one display at a time.
In Wacom Tablet Properties, the Display Toggle tab is automatically available when your pen tablet is installed on a multi-monitor system. This tab lets you select the monitor(s) to be included in the toggle sequence.
After setting an ExpressKey or pen button to Display Toggle, you can use it to toggle the current tablet mapping between a base mapping and other monitors. The display options are:
Pen display to desktop toggles the screen cursor from your pen display to the entire system desktop. Press the button a second time to return the cursor to pen display.
Pen display to other displays toggles the screen cursor from your pen display to another active pen display or monitor. The cursor toggles to each connected display in turn, then returns to the device where the first toggle began.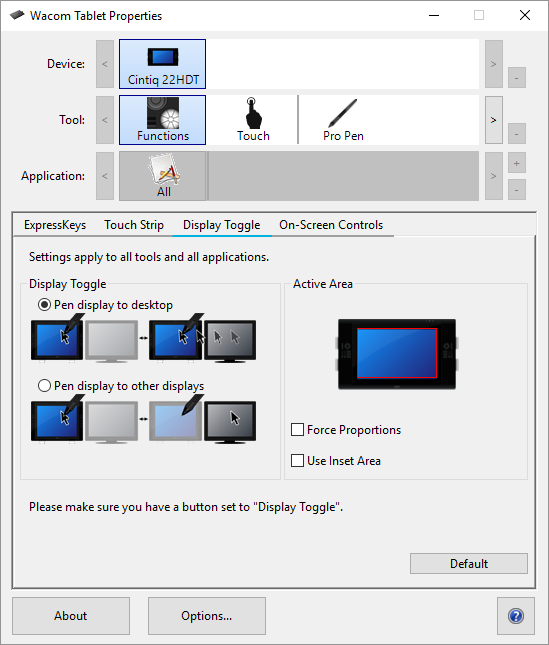 The above screenshot is for descriptive purposes; it may not match your screen.
Active Area options determine the size of the area where the pen will function on the pen display.
Force Proportions adjusts the size of the active area to maintain correct vertical and horizontal proportions between your pen display and the entire desktop or display. Depending on your settings, some portions of the active area may no longer be usable when this option is selected. When deselected, the correct scale or proportions are not maintained.
Use Inset Area limits the active area to a sizing of 6 x 8 inches. If Force Proportions is also selected, this sizing may be less. When deselected, as much of the active area as possible will be used for tablet-to-display mapping.
Important: When using application-specific settings with Display Toggle, be sure that each customized application in the Application list (including All Other) has a tool button or ExpressKey assigned to Display Toggle.
Any of the following actions will return the toggle sequence to the base mapping:
Launching a graphics application that supports pressure sensitivity.
Logging out of or rebooting the system.
Switching users.
Placing the system in sleep mode.
Changing the Display Toggle settings.
Changing the resolution or number of displays on your system.
Using the Mode Toggle... function.
Selecting Pen Mode or Mouse Mode from On-Screen Controls.
Note: The Display Toggle feature is not available on devices in mobile mode.