ExpressKeys™
ExpressKeys are customizable buttons on your device. When you press an ExpressKey, you activate the assigned setting, such as mouse clicks, modifiers, or navigation functions.
Note: ExpressKeys locations and functions may vary, depending on your device.
You can view and change which actions are assigned:
Select your device in the Devices sidebar.
Click ExpressKey settings in the main content area.
In Wacom Tablet Properties, click the ExpressKeys™ or Tablet tab, depending on your device.
Select the action that you want for each ExpressKey from the drop-down menu.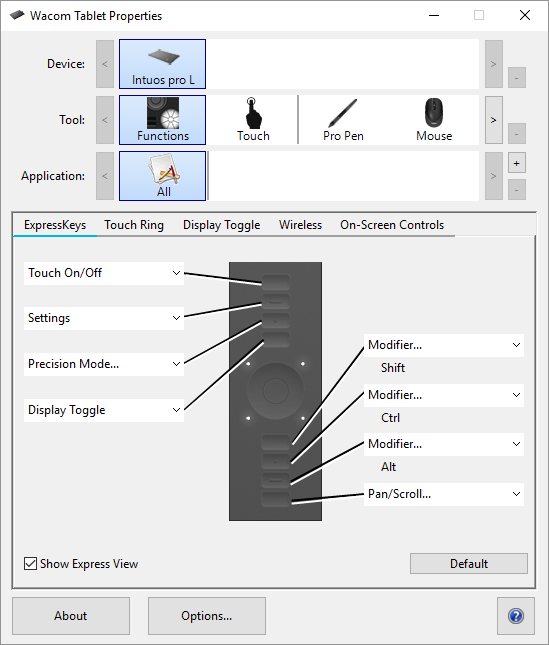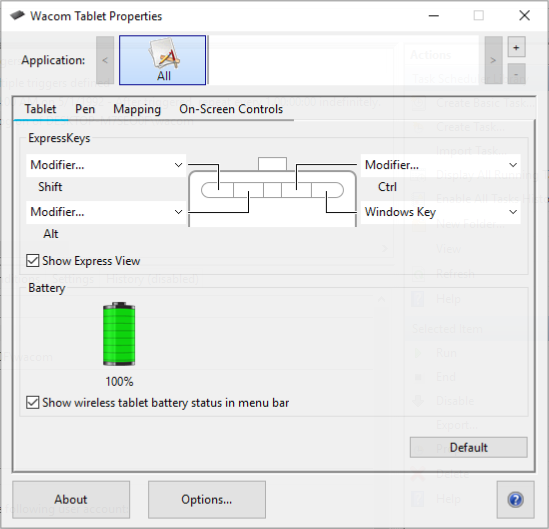 The size and placement of ExpressKeys vary, depending on your device. Your screen may match one of the above screenshots or may be different. The screenshots are for descriptive purposes.
Tip: You can use ExpressKeys in combination with one another. For example, assign Ctrl to one ExpressKey and Alt to another. When you press both ExpressKeys at the same time, you activate a Ctrl+Alt action.
Tip: If your device has ExpressKeys on both sides, you can assign actions to the Left and Right sides individually.
Tip: On certain devices, you can enable Express View so that you can rest your finger on an ExpressKey to show the current settings.