Features
The features of your Cintiq 24HD or Cintiq 24HD touch are described and illustrated below. Refer to the printed Quick Start Guide that came in the box with your Cintiq for instructions on set up and connection. See About your Cintiq 24HD for a list of provided components.
Hardware Control Buttons: Three toggle buttons on the top right bezel of the Cintiq 24HD that automatically execute the following functions:

Left button: Displays a diagram of the current settings for the ExpressKeys™, touch strip and pen settings. The diagram displays each key's default setting until you change it using Wacom Tablet Properties. Press to close the diagram.
Center button: Opens the on-screen keyboard. Press to close it.
Right button: Opens Wacom Tablet Properties. Press to close it.

ExpressKeys™: Customizable keys located on the right and left bezels of the Cintiq. Use the ExpressKeys™ to perform frequently used functions or keystrokes, or to emulate button clicks or modifier keys. See Customizing the ExpressKeys™.
Touch Ring: Two customizable rings on the right and left sides of the Cintiq 24. Slide your finger around the ring to zoom, scroll, or perform other actions. Switch between states using the Touch Ring mode buttons.
Display stand: Use the provided stand to mount the Cintiq 24 and adjust the working position and incline to best meet your needs for pen and keyboard input, or display. See Cintiq 24HD stand.
Power LED: The Power LED light comes on when the Cintiq is powered on. The Power LED indicates the following states: blue when a video signal is present, orange for standby or suspend mode, and no light when the Cintiq is turned off.
Status LED: The Status LED lights blue when using touch, or when the pen, eraser, or pen button is used.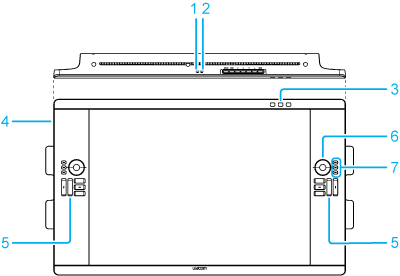 | Number | Item |
| --- | --- |
| 1 | Status LED |
| 2 | Power LED |
| 3 | Hardware control buttons |
| 4 | USB accessory port |
| 5 | ExpressKeys™ |
| 6 | Touch Ring |
| 7 | Touch Ring mode buttons |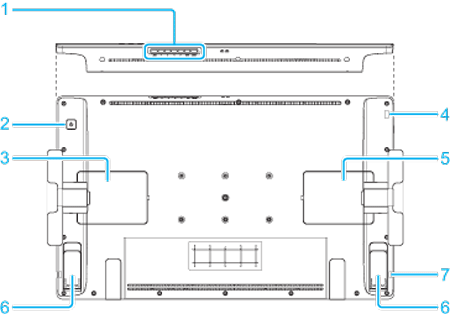 | Number | Item |
| --- | --- |
| 1 | On-Screen Display control buttons |
| 2 | Power switch |
| 3 | Connection ports, DVI-I Dual Link and DisplayPort |
| 4 | Security slot |
| 5 | Connection ports, USB and power |
| 6 | Support legs |
| 7 | Pen tether attachment point (one on each side) |