Standard Gestures
Touch options can be individually enabled or disabled within Wacom Tablet Properties. Touch is on when it is selected in the Touch Options tab, or when the toggle switch is set to enable touch.
The Standard Gestures tab lets you set non-custom gestures. For scrolling, select Natural or Standard from the dropdown menu to determine the direction of movement when you are scrolling. For three-finger gestures, select your preference from the dropdown menu.
Note: Windows does not support the Standard Gestures tab on Pen display products.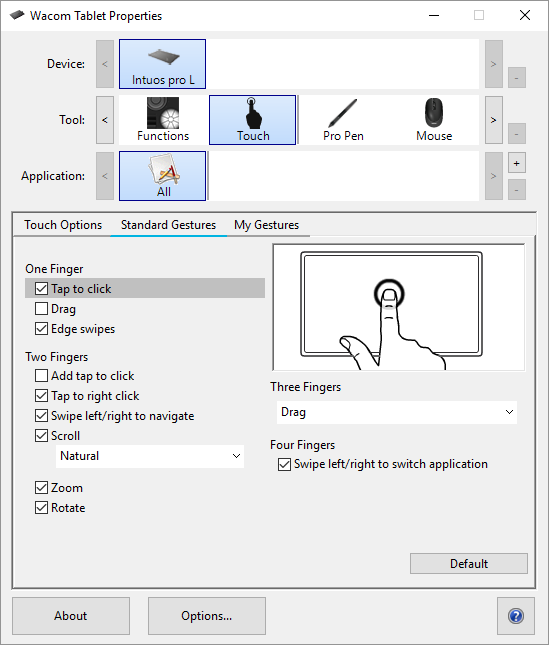 The above screenshot is for descriptive purposes; it may not match your screen.
Use basic actions to navigate and perform typical mouse operations.
Use gestures to scroll, zoom, rotate, and perform other functions. Some gestures may provide a visual cue on your display screen to indicate when the gesture has been recognized.
Perform functions such as a right-click using different actions or gestures.
Position the screen cursor over a touch option to see a static image of that function.
If you do not choose a specific option to view, the Wacom Tablet Properties will display each option sequentially, from top to bottom.
You can also:
Customize your touch experience, and customize the ExpressKeys™ to perform some touch functions. See Using multi-touch.
Change settings using available options by selecting the Touch icon in the Tool list, then selecting an appropriate tab to customize.