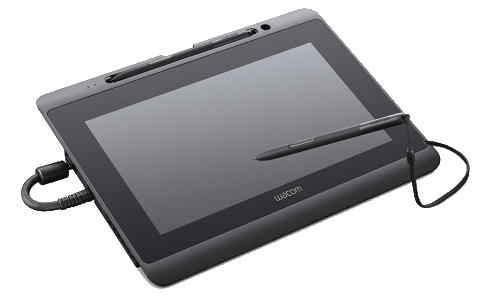 About the DTH-1152
The DTH-1152 pen display allows you to easily view, annotate, and sign documents. Use the pen or touch the tablet surface directly to open documents on your DTH-1152 and then work with and sign them directly on the device, too.
Check out DTH-1152 features for illustrations and information about your tablet. See Set up your device for setup instructions, including how to Connect to your computer.
Included with the DTH-1152
When you unpack the DTH-1152, make sure that you have the following items and accessories:
DTH-1152 pen display
Pen
Pen tether
Extra pen nibs
Nib removal tool
3-in-1 cable
AC power adapter
Power cable
Quick Start Guide
Make sure to review the Important Product Information, which describes safety precautions, specifications, and the license agreement, as well as the warranty included with your device.