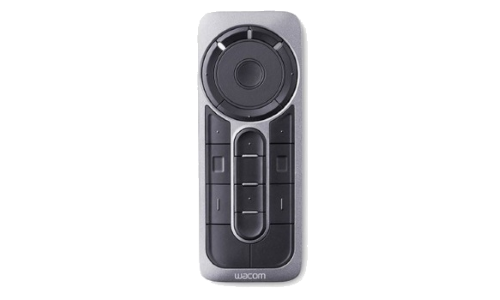 About the ExpressKey Remote
Your ExpressKey Remote™ allows you to set frequently used functions, shortcuts or keystrokes, simulate button clicks or modifier keys, or create automatic settings for a number of applications.
The ExpressKey Remote can be used with any pen tablet or creative pen display when paired with the ExpressKey Remote wireless receiver plugged into a USB port. The receiver can be plugged into the device you are using, or into a computer that is connected to the device, either wirelessly or with a cable.
The customizable ExpressKeys™ are:

Outer keys: Eight keys along the outside edges.
Inner keys: Four keys in the center.
Touch Ring keys: Five keys around the Touch Ring.

Each ExpressKey can be set to a particular function using dropdown menus in the ExpressKey Remote tabs of Wacom Tablet Properties.
The Touch Ring functions in one of three different modes, such as Auto zoom/scroll, Brush Size, or Rotate, that can be set from the mode dropdown menus.
Each Touch Ring mode is associated with an LED. When a mode is active, that function will be performed when the Touch Ring is used, and the associated LED will light.
A Mode Toggle Button in the center of the Touch Ring moves to each mode in order when pressed, and the associated LED will light.
The ExpressKey Remote uses a rechargeable lithium polymer battery. See ExpressKey Remote battery for information about charging and recycling the battery.
The ExpressKey Remote will go to sleep if unused for a short period of time. To wake it, press any key. If it will be unused for more than a few hours, turn it off using the Power slide button to preserve the battery.
See Using the ExpressKey Remote for specific instructions. See ExpressKey Remote Settings View for an illustration of the ExpressKeys settings.
The controls and indicators on the ExpressKey Remote are: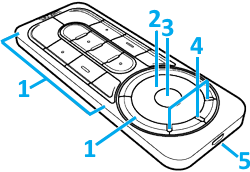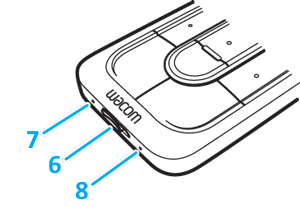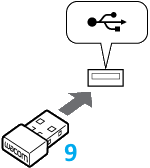 | Number | Item |
| --- | --- |
| 1 | ExpressKeys™ |
| 2 | Touch Ring |
| 3 | Toggle Button |
| 4 | Mode LEDs |
| 5 | Micro USB port (for battery charging) |
| 6 | Power slide button |
| 7 | Battery status LED |
| 8 | Device status LED |
| 9 | Wireless Receiver |