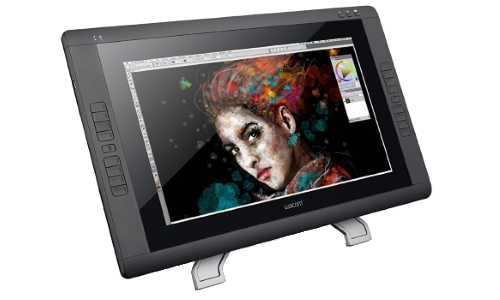 About the Cintiq 22HD
Your Cintiq 22HD creative pen display gives you many different ways to express yourself. See Cintiq 22HD features for illustrations of your pen display, and Using your pen display for information on system requirements and setup instructions. To view additional options for using your pen display, see Getting Started.
If you are using the Cintiq 22HD touch (Cintiq 22HDT), you can also use touch to perform functions directly on your pen display screen using standard gestures. Using multi-touch provides a description of touch functionality.
Your Cintiq 22HD or Cintiq 22HDT can be used with the pen that came with your product, or with another Wacom pen or tool specified for use with your Cintiq.
Please refer to the printed Quick Start Guide provided in the product box for descriptions of the parts and components for your Cintiq 22HD, and instructions for setup. The product Help topics will help you make the best use of your Cintiq. You can access Help from the ? icon in Wacom Tablet Properties, or from the Help dropdown in the Wacom Desktop Center.
Included with your Cintiq 22HD
When you have unpacked your Cintiq, make sure that you have received the following items and accessories:
Cintiq 22HD (or Cintiq 22HDT) creative pen display
Display stand
Pen
Pen stand and extra nibs
Pen color rings
Nib removal tool (in pen stand)
Installation CD
Quick Start Guide (booklet in Cintiq box)
AC power adapter
Power cable
Note:
Optional accessories are available for both the Cintiq 22HD and Cintiq 22HD touch. For accessories and other product options, go to the Wacom Store.
Review the Important Product Information, which describes safety precautions, specifications, warranties, and the license agreement for your device, on the Wacom Desktop Center.