Features
The controls of your Cintiq Companion Hybrid include:
Customizable ExpressKeys™: Four keys on the front of the creative pen display allow you to set frequently used functions or keystrokes, simulate button clicks or modifier keys, or create automatic settings for a number of applications. See Customizing the ExpressKeys™.
Rocker Ring: The four-position Rocker Ring allows you to further customize your functions. Press the Center Button in the middle of the Rocker Ring to toggle between the Rocker Ring positions. LEDs on the Rocker Ring show which of the Rocker Ring modes is active. See Using the Rocker Ring.
The front and rear illustrations show the additional features of your creative pen display. See About your Cintiq Companion Hybrid.
To begin setting up your creative pen display, see Cintiq Companion Hybrid setup: step 1.
| Number | Item |
| --- | --- |
| 1 | Center Button |
| 2 | Rocker Ring |
| 3 | ExpressKeys™ |
| 4 | Light Sensor |
| 5 | Front camera |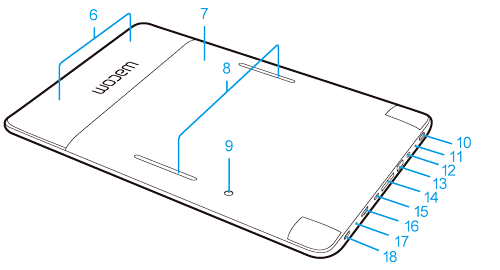 | Number | Item |
| --- | --- |
| 6 | Grip pad |
| 7 | Speaker |
| 8 | Stand slots |
| 9 | Rear camera |
| 10 | Power button |
| 11 | Microphone |
| 12 | Headphone jack |
| 13 | USB port |
| 14 | 3-in-1 connector |
| 15 | Micro HDMI port (video out) |
| 16 | MicroSD card slot |
| 17 | Microphone |
| 18 | Battery status LED |